The Wyndham Sugar Bay - St. Thomas US Virgin Islands
Suspended 100 feet above the water, St. John Terrace is the location of our wedding ceremony location. The terrace has views of the U.S. & British Virgin Islands and is a perfect location to celebrate our caribbean dream. This will be the start of our romantic adventure that starts with, 'I do.'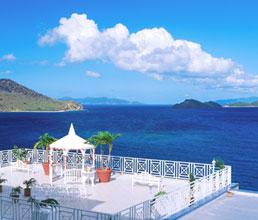 We couldn't imagine a more perfect place to start off our live together. We also want to thank all those that are making the trip to be there for our special day.
We have so many wonderful and supporting family and friends that have been there when we have needed anything as we planned for this day. Thank you all once again!!

After our wedding, we will heading to Grenada for short stay and a sailing cruse on the Yankee Clipper. The Yankee Clipper is a 200 foot sailboat run by Windjammer Cruises. We will be sailing from Grenada to St. Vincents, stop at a few islands as we go and return.
| | |
| --- | --- |
| | |
| Here is a shot of the boat from their website. | Here is a map of the islands that we are sailing to. |